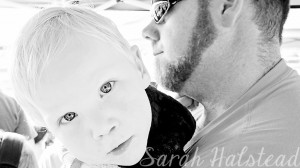 Carsyn was diagnosed at 11 months old with Holorposencephaly. After several months of not knowing what was going on we finally got an MRI done and the neurologist said that long word. I wasn't sure what our life was going to be like. I was scared and shocked.
Carsyn had already started therapy. We just became a little more aggressive and learned that he also had Cerebral Palsy. He has since gotten AFOs, Botox Injections in his hamstrings, a SWOSH, and a stander.
He is now 2 years old and we are still in therapy 3 times a week. He will be getting his gait trainer soon. I can not wait for him to be more independent. I think he will love it!